Choosing the tour operator for your dream trip is a big deal. It's hard to know what tour operator will be the best fit, who the other riders will be and how well the company compares to competitors. 
10 years ago we were sitting where you are right now, going through the same challenge. Here are seven reasons why you should choose us for your dream trip.
1) A TEAM FROM OPPOSITE ENDS OF EARTH
Father and son Mark and Ben van Leewarden from New Zealand kicked the business into life.  Ben virtually suckled on a motorcycle, and both Mark's parents rode 650 Triumph Bonnevilles on the gravel roads of the South Island. For three years the pair raced Supermoto bikes, campaigning on track and street circuits throughout New Zealand.
With a father and son as company principals, Planet Chopper follows a family ethos.
The pair had ridden large tracts of the US on choppers, covering over 40 States, Sturgis three times, down to Key West and coast to coast. In 2011 they first met American friends John Devonshire and Wayne Cayton at The Smokeout Rally in North Carolina. 
Strong business, legal, and marketing backgrounds complement the technical and bike-building expertise offered by the two American partners. This unique half NZ, half US crew with extensive worldwide riding delivers a well-organized (yet casual) experience to riders.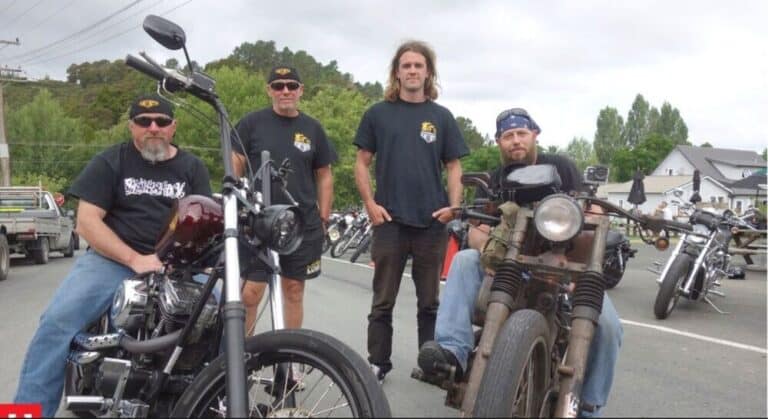 John, Mark, Ben and Wayne
2) SHARP MOTORCYCLES FROM MULTIPLE BRANDS
Planet Chopper is the only company in the world that offers custom motorcycles as tour bikes. Our fleet includes Harley Davidson, Triumph, Honda, Yamaha, Kawasaki, KTM and Royal Enfield to cater for every need and desire.
Do it raw, or go in comfort – the choice is yours. Prefer apes and a sissy bar? You've got the choice. 
There are stock motorbikes, baggers, bobbers, old motorbikes and the latest models. Motorcycle rental in New Zealand and the USA will never be the same again.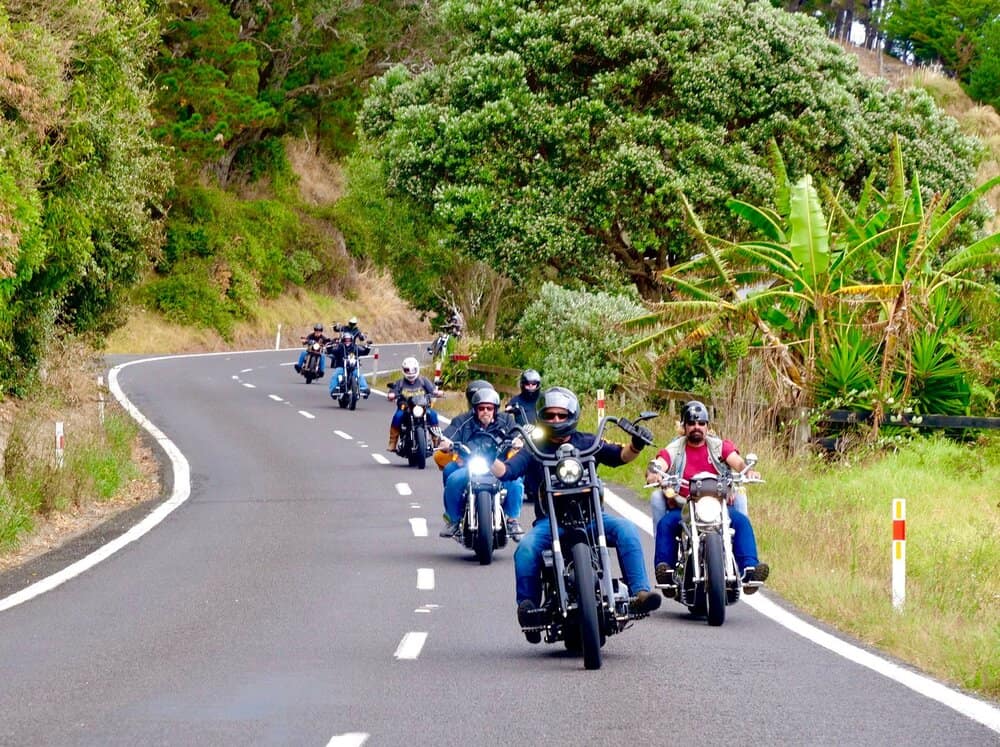 3) NEW ZEALAND & UNITED STATES BASES
The Planet Chopper roadhouse is located in Woodlawn, Virginia. It is a temple to the worship of motorcycles and is decorated accordingly, with all manner of biker memorabilia. 
The top floor has accommodation for over 16 people, a lounge and a world map with pins from the hometowns of all the travellers who have been through. 
On the second floor is a pool table, darts board, sound system, bar and diner-style lounge area where an unrestored 1969 "barn find" chopper rests against one of the diner walls.
The bottom floor is a fully functional workshop which services the local bike community. Over ten tour motorcycles rest awaiting the next crop of riders. From shovelhead choppers to rat bikes, bobbers and production machines, the Roadhouse is a spot dedicated to honouring the past and future of custom motorcycles. 
Woodlawn, which is in SouthWest Virginia, is within striking distance for East Coast riders and those looking for a place to stay while riding the Blue Ridge Parkway and Tail of the Dragon.
International travellers are treated to an area off the beaten track but within a few days of Nashville, New Orleans, Las Vegas and national parks. 
It also opens up multi-week trips from Chicago to Los Angeles along the Route 66 trail, including The Grand Canyon and Pacific Coast Highway. Conjuring up thoughts of the Pony Express and the good ol' days of San Francisco. 
New Zealand's HQ has offices, motorbike hire, merchandise, and is equipped with a lounge. Located in Auckland, it's a great kick-off point to tour New Zealand (starting in the North Island and heading south is always recommended).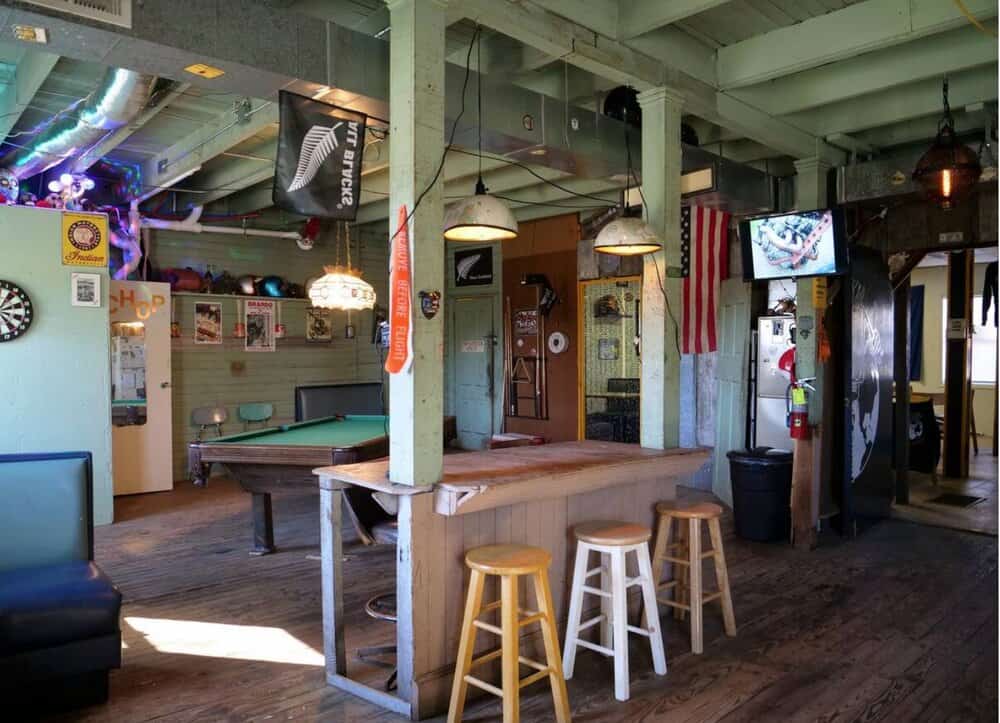 The Roadhouse in Woodlawn Virginia
The garage below the office in Auckland
Planet Chopper focuses on motorbike rallies in both the US and NZ tapping into the heart and fibre of motorcycle communities. This enables tour participants to embrace rally offerings such as bike shows, racing, live music and camaraderie. 
Our guided motorcycle tours head to Sturgis, Daytona Bike Week, The Smokeout Rally and the Burt Munro Challenge. 
These trips are usually one-way motorcycle tours so that there is more time to ride New Zealand or the USA and attend the rally. 
Each trip is once in a lifetime experience that combines an epic motorcycle rally with an awesome cross-country trip.
Having a good ol' time in Sturgis
5) GIANT LEAP MOTORCYCLE TOURS
We offer motorcycle adventure tours through our sister company. These motorbike tours depart from India are for those riders wishing to ratchet up the adventure. 
These rides on the KTM 390 adventure put the "Planet" in our name by taking in the Himalayas, Tibet, Myanmar and Thailand. Stunning scenery and incredible cultural experiences result from every riding day in these lands. 
Deep in the Himalayan mountains near Leh
As a safety-conscious and ethically based enterprise, we foster the support of charity. Aligned with the Salvation Army in both NZ and the US, we run raffles to raise funds and donate part of the proceeds from merchandise sales. 
The Virus Buster Run in NZ was designed to "Twist the Throttle" on the local economy by supporting COVID ravaged tourist businesses. In India we support schools through the donation of computer equipment.
USA motorcycle trips have it all but with our New Zealand road trips, we share one of the most beautiful places in the world. From Coromandel beaches to the Southern Alps, you'll enjoy a once in a lifetime experience surrounded by Kiwis – the friendliest people on the planet.
Amongst a whole new world, Planet Chopper combats a world full of norms, technology, restrictions and red tape. This phenomenon nods to an earlier time but is a new force bringing together bikers, machines, adventure and travel.
Taking a trip with Planet Chopper is more than a ride or a motorcycle trip, you will be welcomed into our family, one that is committed to cool motorcycles, old-fashioned fun and genuine travel. 
If you still have some questions or concerns emails us here ben@planetchopper.world. New Zealanders you can call Mark on (021)-726-000, Americans you can call John on (276) 233-6974.