Gunning it Broncos vs VW Bug vs Suburban
NORRA MEXICAN 1000: HOW DO YOU REFLECT ON A TRIP THAT FEELS LIKE A HAZE OF HYSTERIA?
Well, we could take some Hunter S Thompson approach (a man who would fit the bill of this event perfectly). But I feel it would be better to take a bit of time to draw out how the event works and what makes it so special.
My dad and I did this 1700km (1200 mile) 5-day race for the first time this year and we managed to win our class (challenger 4×4).
The tagline of the event is "nurturing the past & forging the future'. As such there are 7 main vehicle classes:
* Pioneer Era (1967 – 1975)
* Legend Era (1976 – 1982)
* Challenger Era (1983 – 1988)
* Vintage Era (1989 – 1997)
* Historic Era (20+ year old tube frame trucks and truggys)
* Unlimited class for 20+ year old machines
* Evolution Era (Modern machines)
Having those classes and a reputation for being "the happiest race on earth" means that people can race their own race.
If you want to go mental and drive on the limit the whole time, you can. If you want to drive across one of the most beautiful parts of the Americas in your prized car, you can. Or, if you want to drive a VW van with your friends on this dusty race course, you can.
WHAT ISN'T REQUIRED BUT KINDA NEEDED…
A rigged out car: 1200 miles on rock, sand and silt will ruin a car that isn't prepared properly. There's even this white rock stuff on a few parts of the track which is harder than rock, its some lunar type of bullshit. We met a guy who bought a Can Am off the shelf and raced it, a bunch of people are running low-cost bugs too so it's certainly possible and within the spirit of NORRA to complete the race on a budget.
A chase crew: We had 2 guys in our class driving a Chevy Blazer. The car has competed 4 times and instead of a chase crew, they had a blowup doll in the back. Unfortunately, some mechanical issues threw them out of the race, which is a shame because it was a gutsy move and a cool car.
The truth is that you don't need a chase crew but without one it is likely you won't sleep (or finish). When NORRA releases the route your chase crew will need to gas you up at certain places (unless you use MAG7 which is located throughout the course).
When you are dying to sleep after 12 hours of driving your chase crew will be checking and fixing any issues. It is a luxury to have a chase crew but if they are your friends and family then it just becomes a great big adventure for everyone.
SO IT'S A RALLY OR MORE LIKE DAKAR?
It's like a rally with more potential for mistakes. Each car is fitted with a Stella tracker this acts as a mile marker (amongst other things), most cars also have a GPS system e.g. Lowrance or Ipads with the LEADNAV app, the latter being the easiest and cheapest option.
Lowrance or Leadnav show what's ahead and that you are on course and you can cross-reference that with the roadbook or GPS. But the true spirit of NORRA would have you using the paper roadbook and the Stella mile marker.
Here is how all three systems function: every time you start the day you mile meter starts at 0. Every turn, ditch, jump and caution is entered into the road book. So let's say you start the race (your mile marker is at 0) then in your roadbook it will say 0.5 miles HARD LEFT.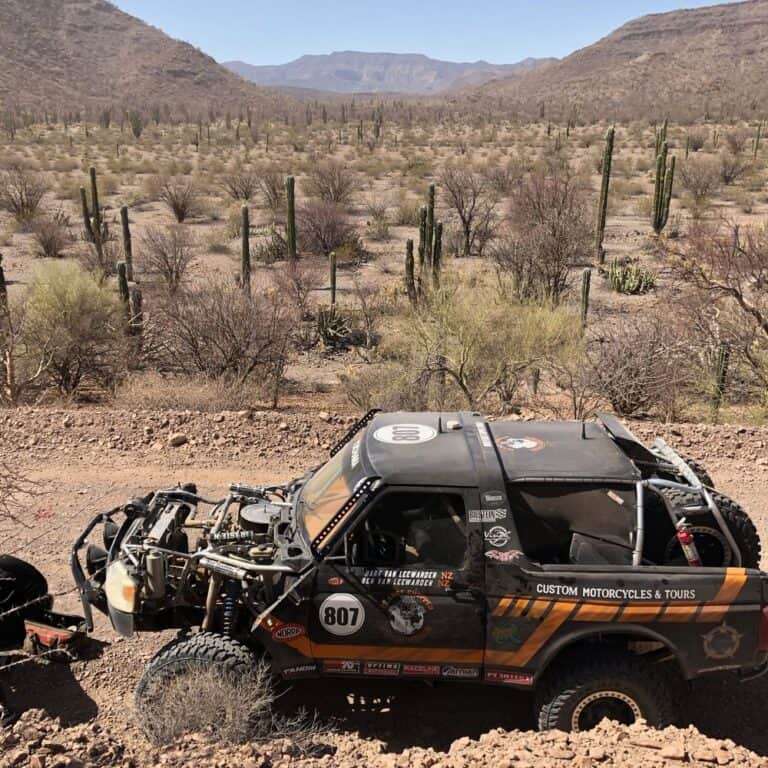 Another Breakdown: Click on the photo to see the full landscape
You have to tell your driver that you are coming up to the hard left with ample time, and then remind them again as you are about to hit it. Now, this can be tricky, maybe they don't hear you, maybe you thought the turn was easy but it is actually at a right angle and beside a crater. All of these calls are pressurised when driving in dust, at night or when your driver is agitated… Agitation is normal, it's like the raring head of adrenaline. Side note: agitation clouds judgement. This brings our next point…
ENTER THE RACE AS FRIENDS AND LEAVE AS ENEMIES?
The advantage of doing the race with family is that you are used to bickering. But desert racing gives that bickering more of a sting to it, with the agitation and potential for death at every wrong call, misjudgments and navigation mistakes can result in some really punchy swearing and yelling. Though this is blended with moments of pure joy: I found it funny that me and dad would scream at each other "f**k you, I said go straight", "make the f***king call earlier!" And then 30 seconds later, "wow, that was an awesome jump" – "yeah that was awesome". You're going to get overwhelmed by moments of frustration and ecstasy leading to the next point…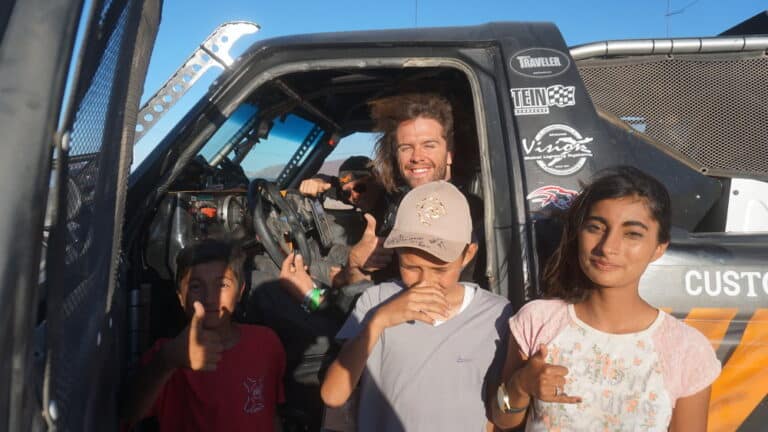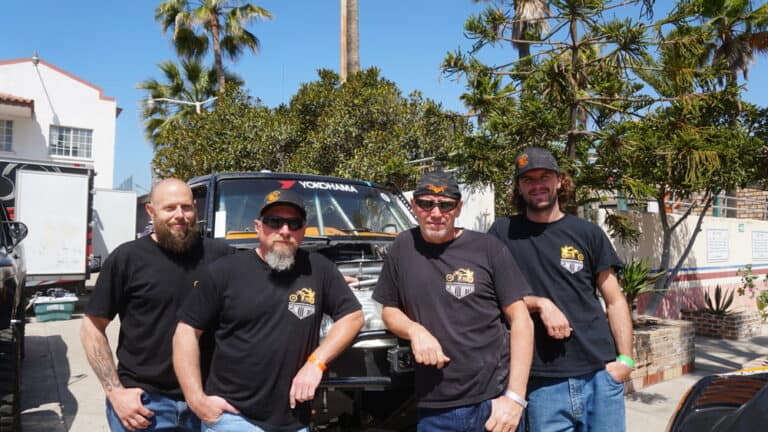 Wayne, John, Mark and Ben — Team Planet Chopper Racing
THE HIGHS AND LOWS
We broke down 6 times on day 3, the worst day to do so with over 300 miles/482km of hellish rocks and bullshit. First the alternator, then break line, relay, fans, break lines again, starter button and then breaks again. One to the other, wow. Thank god we had Gary Camacho in the car, our loyal co-driver, he whipped up some of that ingenious Baja mechanical magic. Bringing new meaning to "drive it like its stolen" we had a hotwired car and rewired relay/fans with front breaks only.
After driving in the dark for 5 hours over some of the sketchiest terrains, we arrived. From fear, excitement, anger, frustration and disappointment to pure elation.
That's what makes racing so great, and this race is SO good at catering for that because racers treat each other as friends rather than competitors (mostly). And the locals are so lovely too, at the finish line in La Paz the Baja Sur Early Bronco club welcomed us with two bottles of delicious booze!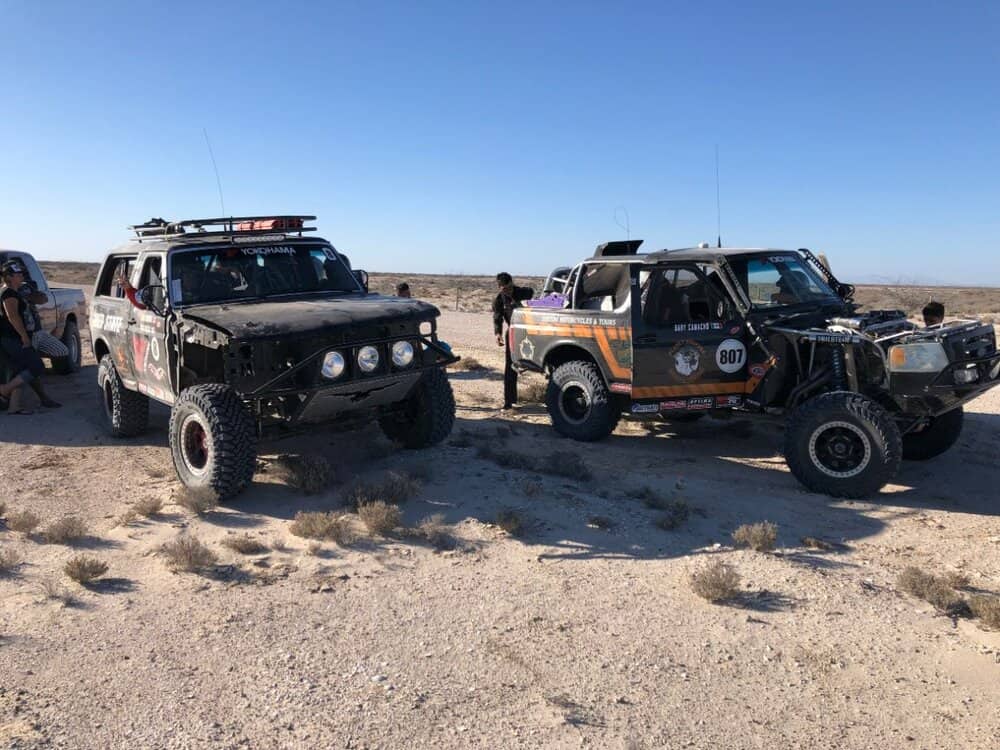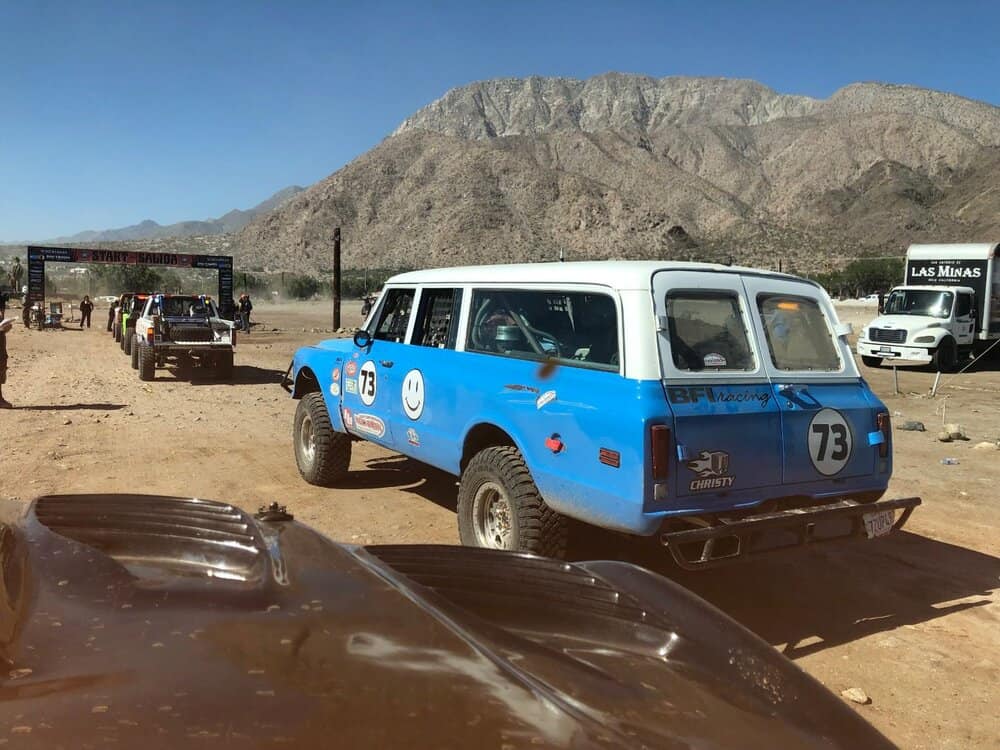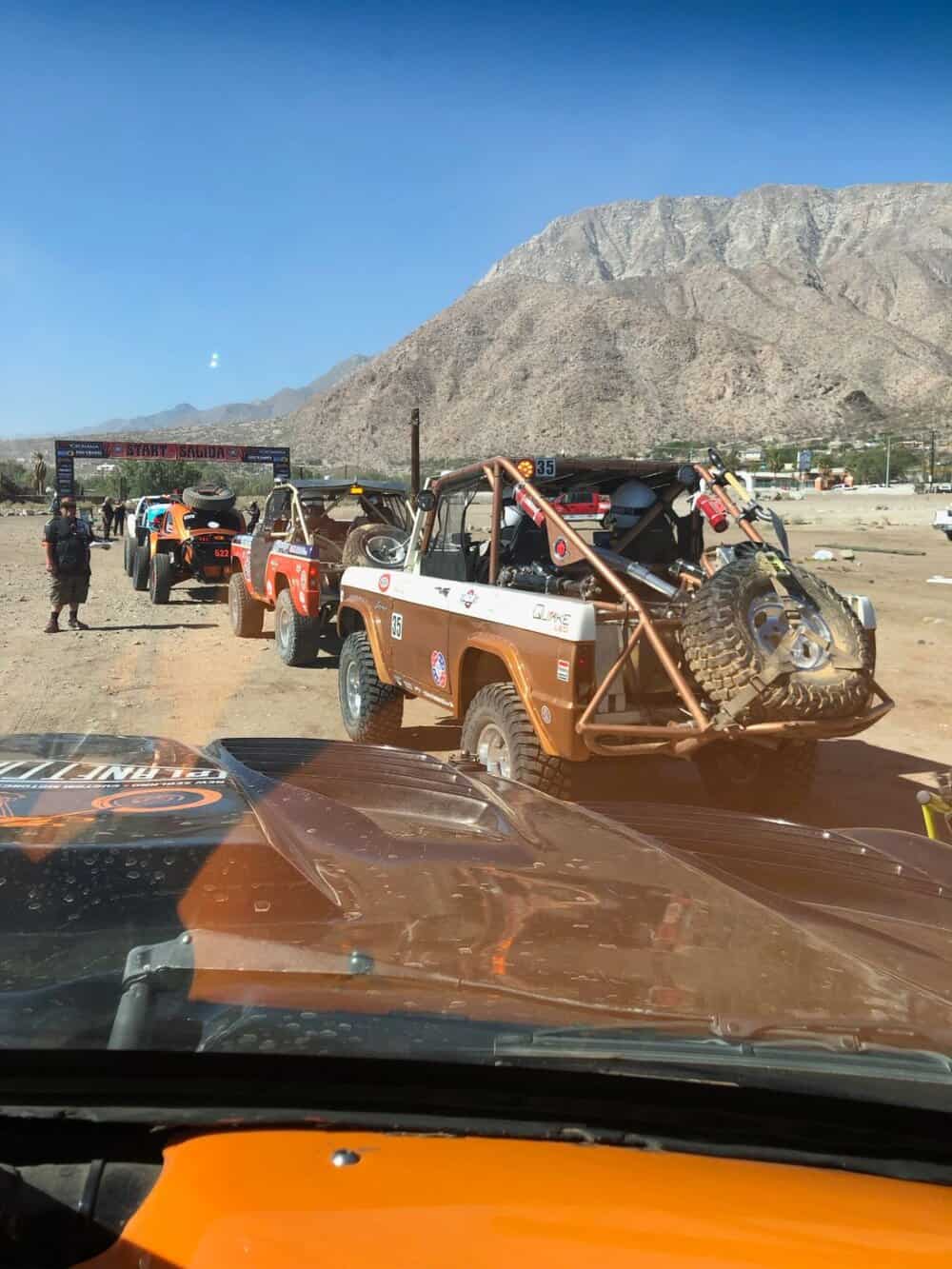 Triumph Scrambler at NORRA 1000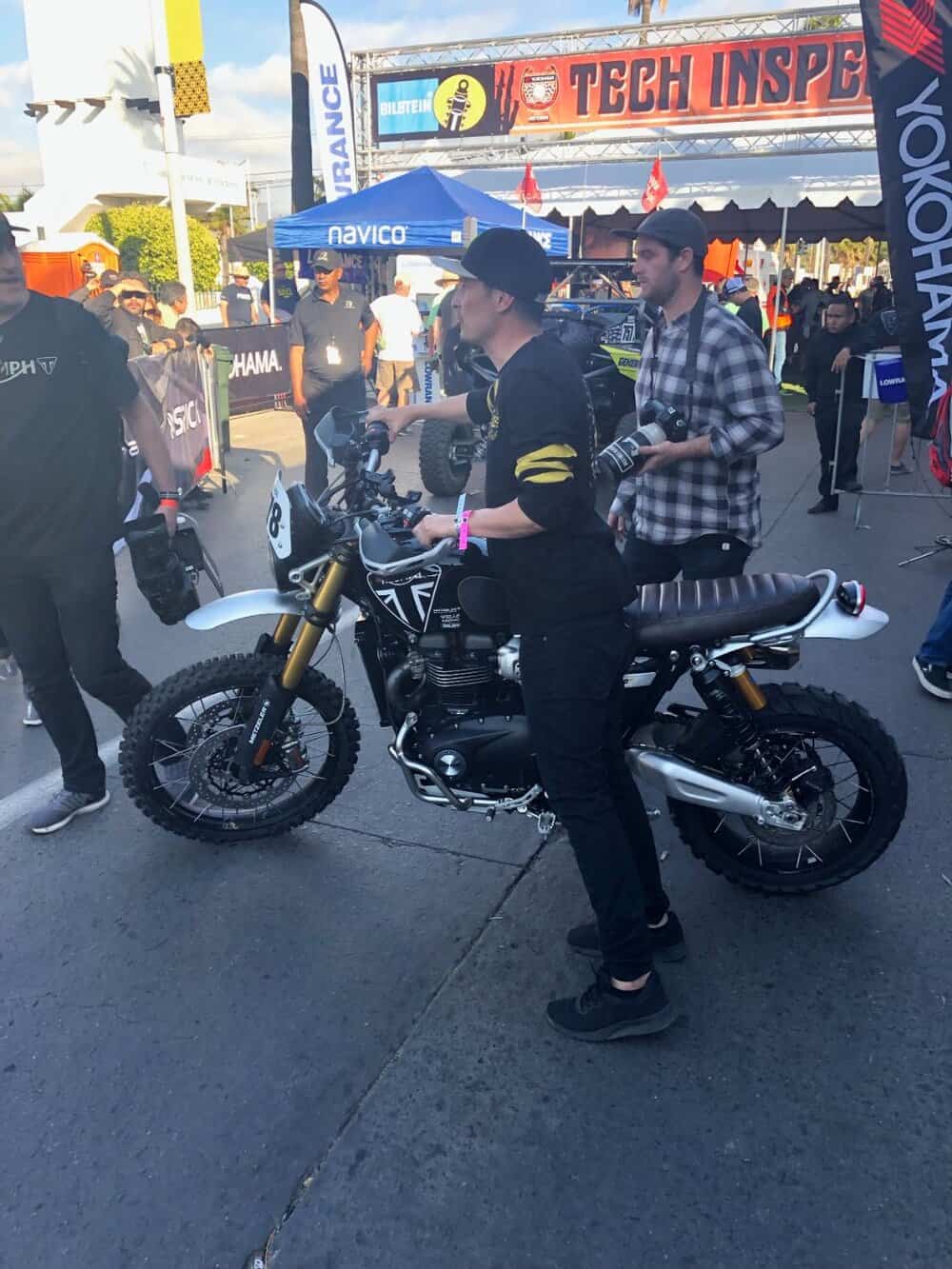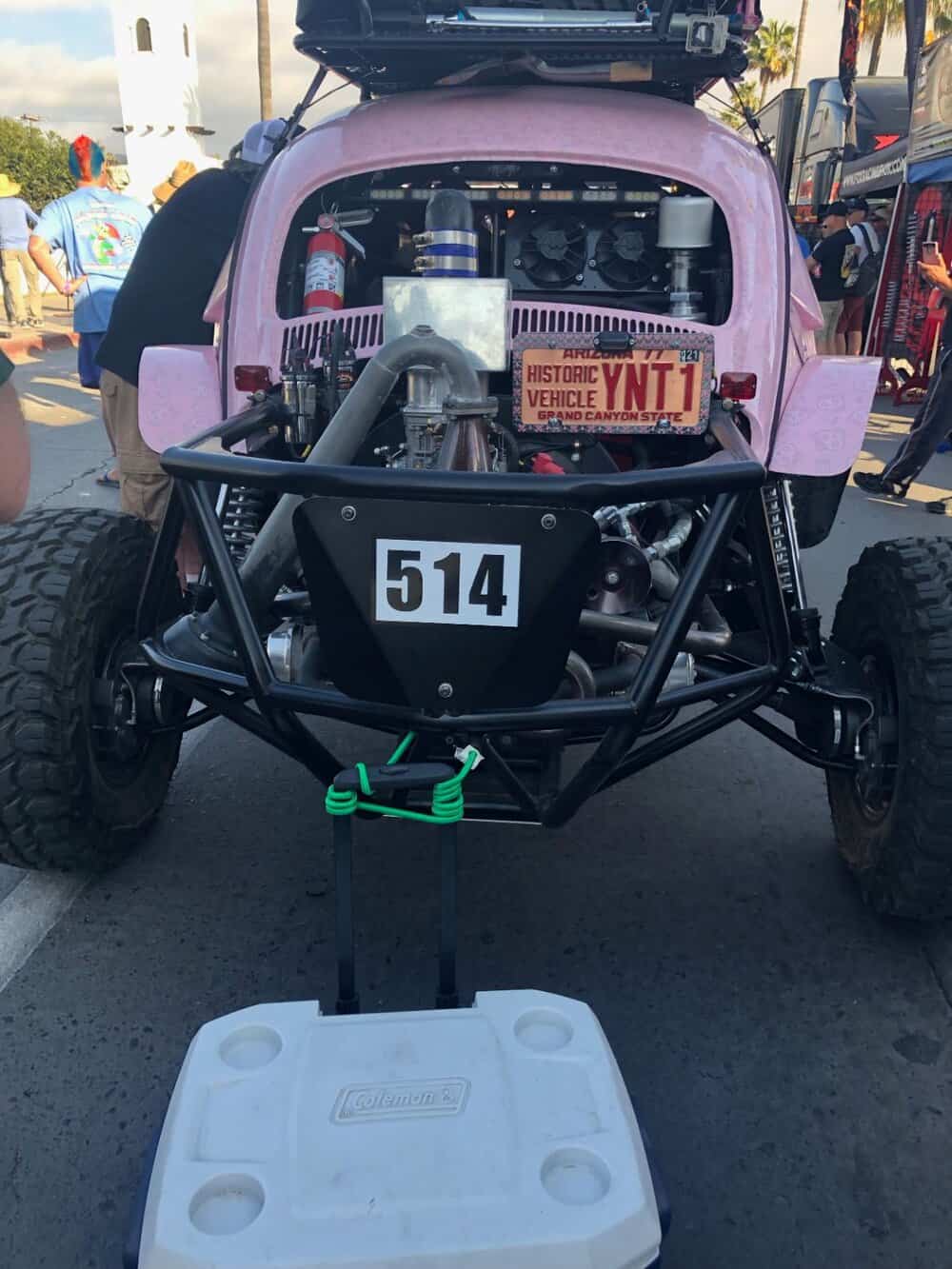 Green VW Van at NORRA 1000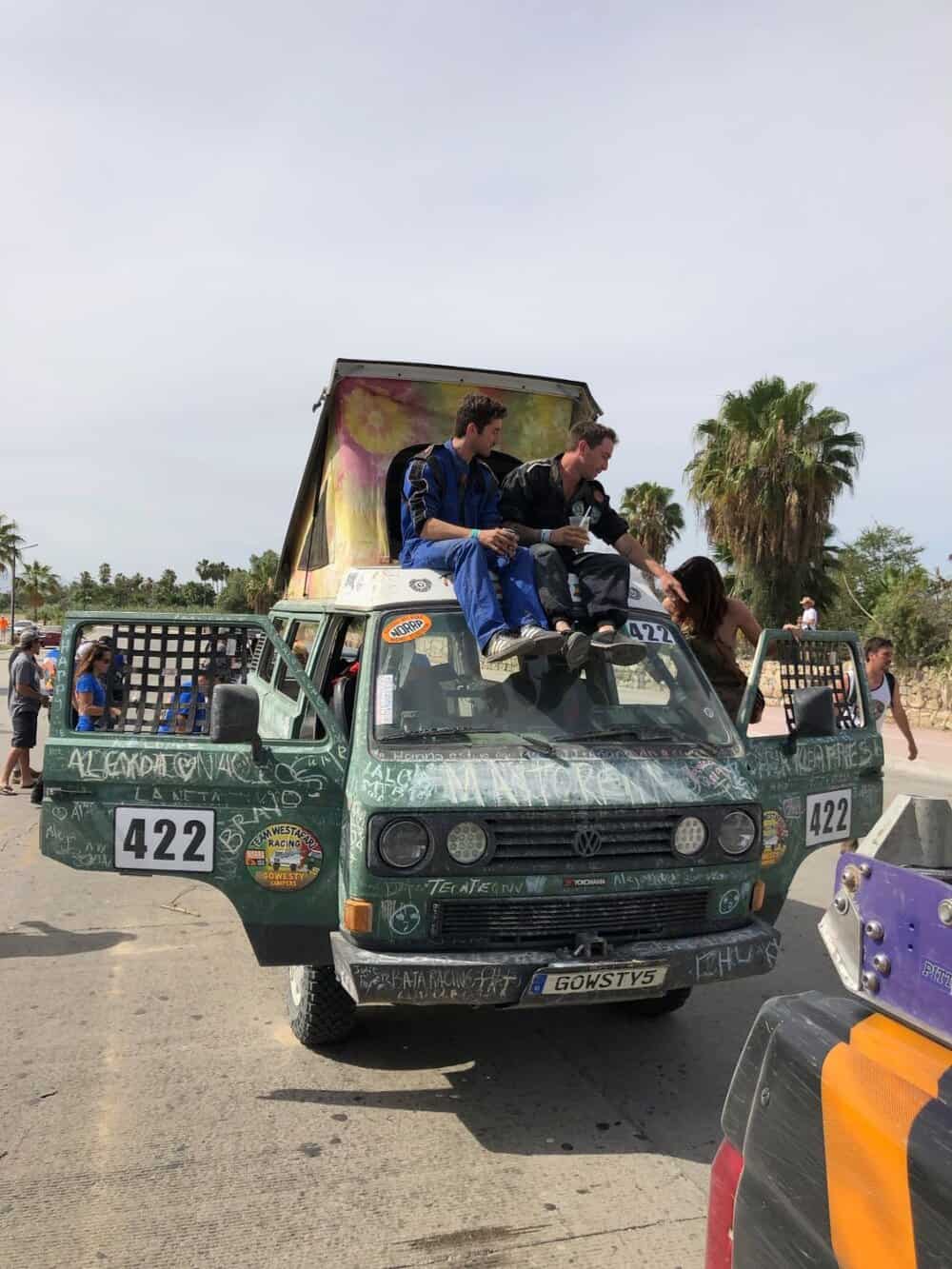 DON'T SPRINT IN A MARATHON
On the first day, we got overtaken by some wild dudes who — 1 mile later — were crashed on the side of the road. "Drive what you see" is reiterated by the management. Here is an example: dad came around a left-hand corner and three wild horses ran out of the cactus directly towards us, a split second later local oncoming traffic came around the corner…
Racing long distances is about giving yourself a talent buffer. When it's time to gas on, do it. When alternatives are lessened, act accordingly. Stopping to take a piss or sharing a laugh replenishes focus. It also makes the trip a journey with time, rather than against it.
OUR MAIN LESSON
We were super happy to win our class, so we were in great spirits during the awards ceremony (and the spirits were in us, mostly tequila). Marty, the presenter at the awards ceremony spotted our drunkenness as soon as we walked on the stage to accept the trophy.
After the awards ceremony was closing and people were leaving we began to play fight each other on the sand. We got carried away. Bets were made and an injury was sustained… We thought the only way to remedy that pain was to go into San Lucas for some fun. On the way to San Lucas (a 20-minute drive), our taxi broke down. 1700km on dirt, sand and silt and it's our taxi that dies… and the only injury we got is from play fighting? Anyway, we changed taxi and go into San Lucas. After settling in for an hour I realised "I LEFT THE TROPHY IN THE TAXI!" The lesson for next year: easy on the Tequila.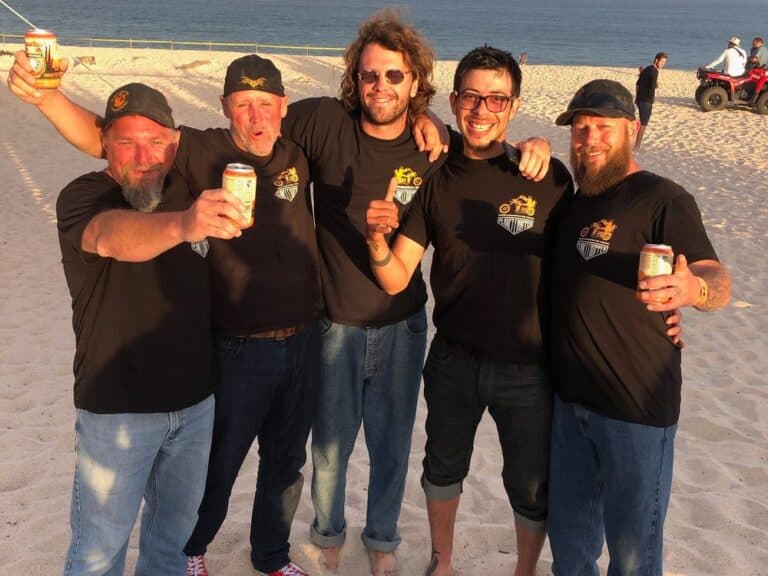 Sweet nectar for the beginners!
WRAPPING UP
NORRA is one of the best experiences that my old man and I have had. I am so grateful to him for bringing me into this world (which might be the perfect world, with just the right amount of rules…). He also did a bloody good job driving the whole thing except for one section (he gave me the worst one).
We were so impressed by the organization and professionalism of the NORRA staff and completely charmed by the good-hearted locals of Baja. Not to mention the beautiful landscapes and top-notch support we had from Andrea and his crew. It was also incredible to do it with the support of John & Wayne! We'll be coming back until we can't drive anymore! P.S Don't forget stickers!