Finding the best motorcycle rides in New Zealand is actually quite simple thanks to our gorgeous mountains, luscious green spaces and endless coastline. Here are the greatest motorcycle roads for your next motorcycle adventure in New Zealand.
This article is the complete guide to Auckland motorcycle day rides. Here you can find maps, itineraries and tips for all the best motorcycle trips within 3 hours of Auckland.
1) AUCKLAND TO MATAKANA DAY TRIP
Matakana is one of the best day trips in Auckland. Take SH 16 through Kaukapakapa for panoramic views over the Kaipara Harbour. 
Once in Matakana Wine country, there is plenty to do (and eat). If you've got the time, we recommend riding to Pink Beach, a little-known spot with pink sand accessed at the southern end of Omaha beach.
Pro Tips: Matakana Village Farmers Market always has terrific produce. Matakana Cinema is probably the best boutique cinema in the country.

The Rusty Pelican has delicious food. You will ride alongside the massive sculptures of Gibbs Farm on SH 16. Tours can be booked with them here.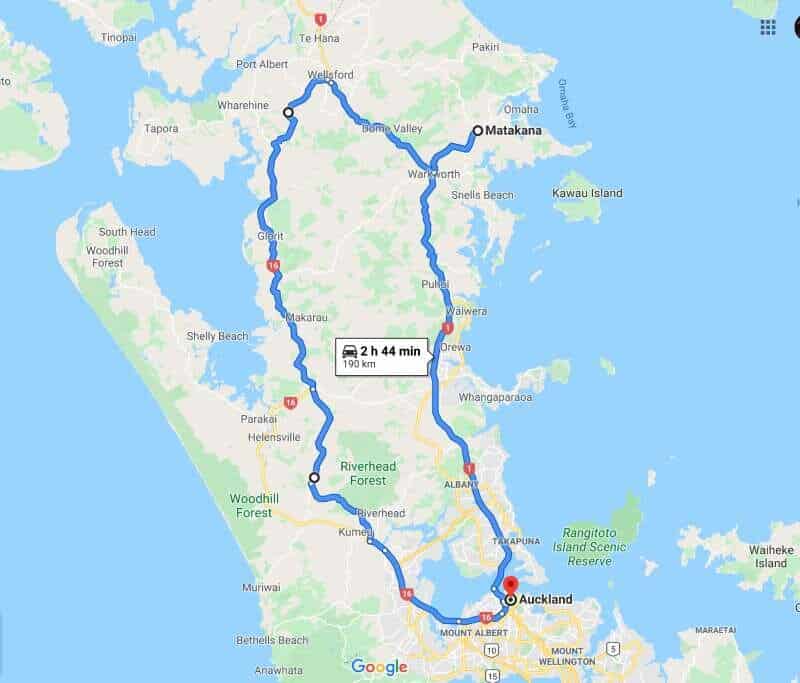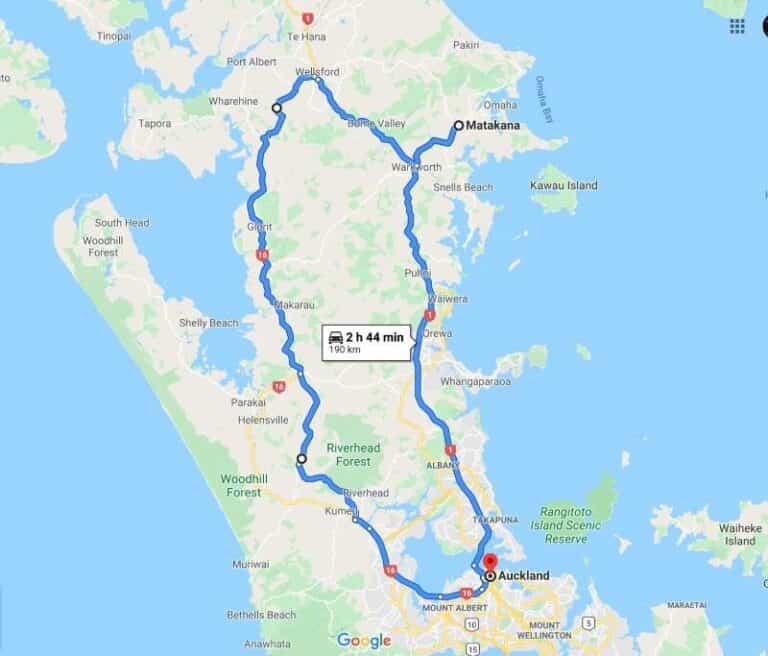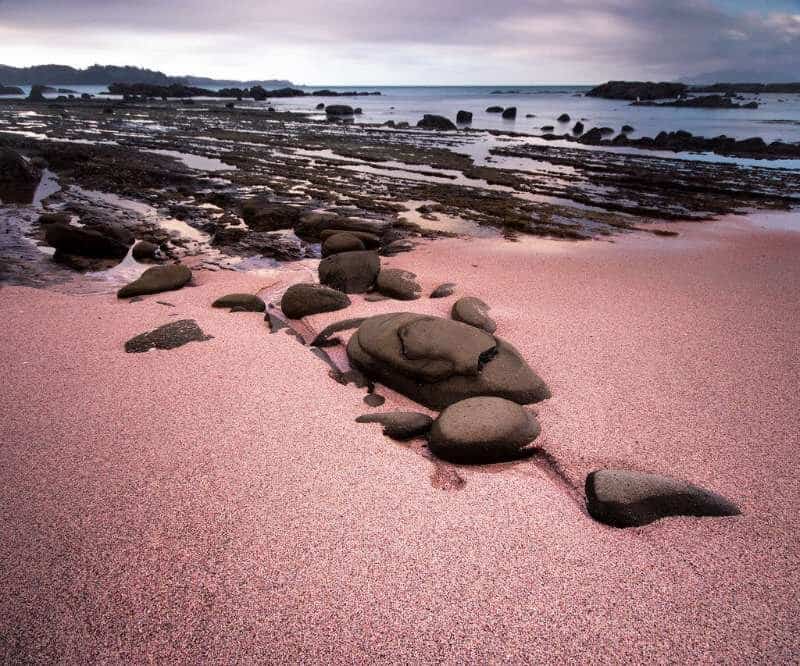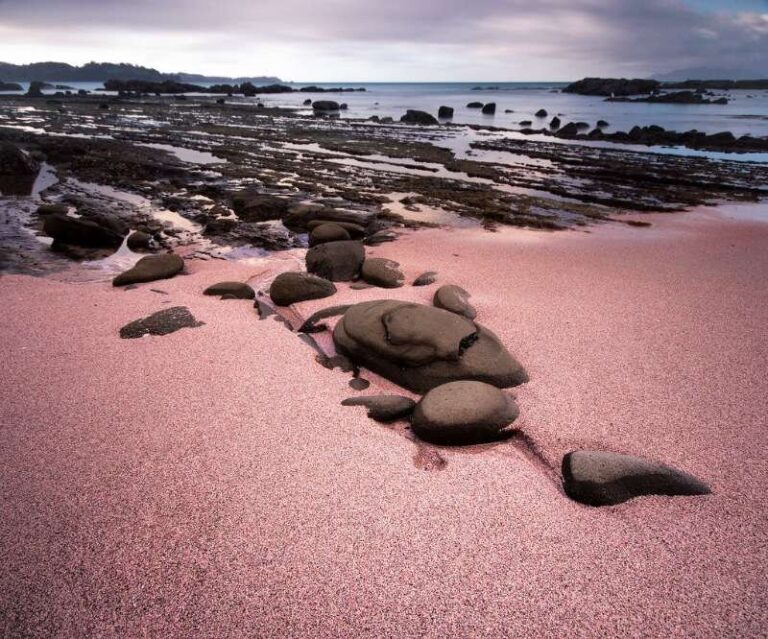 2) WAIHEKE ISLAND AUCKLAND DAY TRIP
Can you go to Auckland for 1-day with a motorcycle? Yes, and it's easier than you think. The Sealink ferry (including 1 motorcycle) costs $78 return. 
It departs from Half Moon Bay every hour on weekdays and runs about the same frequency on weekends and public holidays. Waiheke is the perfect place to go with no plan in mind, just cruise around and see where you end up. 
Pro Tips: Head to the golden sands of Oneroa Beach. At Stony Batter Historic Reserve, you can see World War 2 gun emplacements and explore the tunnel system (the largest in the country).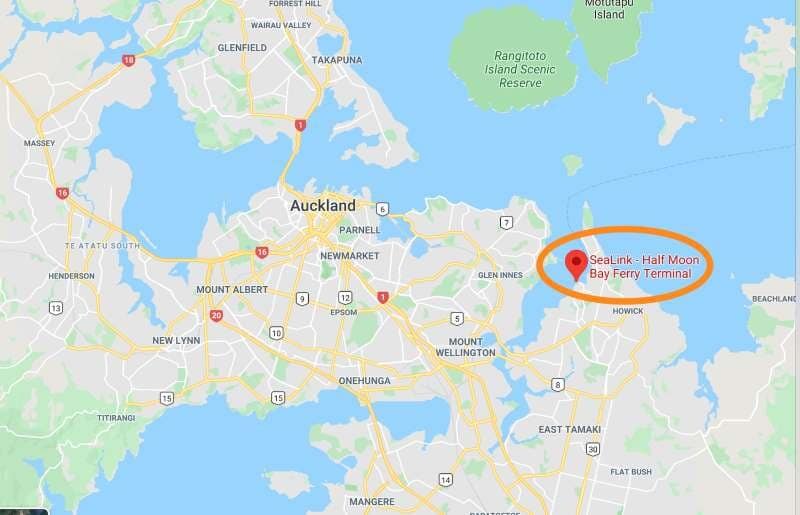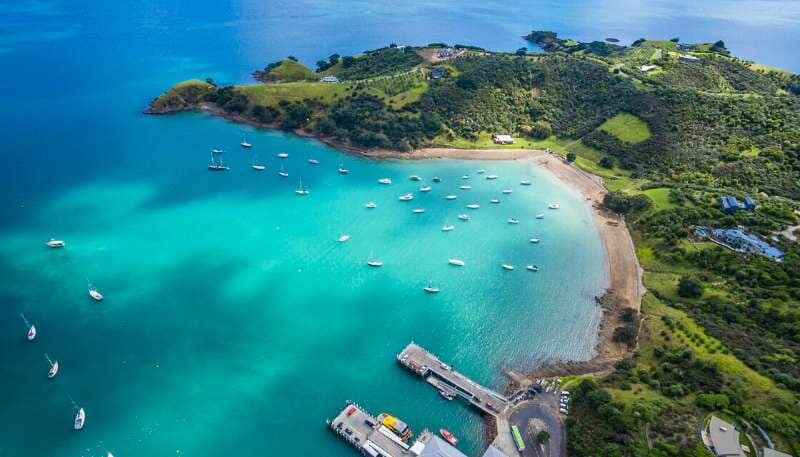 3) COROMANDEL PENINSULA DAY TRIP
Can you do the Coromandel Loop in one day? If you are south of the harbour bridge then it is doable (providing you avoid rush hour). The ride will be 400km (248 miles) and is known as one of the best motorcycle rides in New Zealand.

Pro Tips: Avoid weekends, rush hour(s) and public holidays at all costs. Winter-time will always have less traffic. Stop off at Hot Water Beach, Mount Paku or Cathedral Cove (It's about a 40 min walk). Go to Luke's Kitchen in Kuaotunu for lunch/dinner: they've got the best pizza and fish in the North Island.
Planet Chopper on The Coromandel Loop, State Highway 25
4) AUCKLAND TO RAGLAN DAY TRIP
Head west on this is a very underrated ride. We recommend taking the motorway one-way to speed up the trip. 
The best part of this ride is Highway 22, tight curvy corners and wide-open fast sections that make it a challenge to stay under the speed limit. Raglan has a surfy vibe, plenty of great seafood and lots of friendly locals. 
Pro Tips: The Shack does the best food. Raglan Roast makes the best coffee. Te Toto Gorge Lookout near Ngarunui Beach is a fantastic spot to watch the surfers below. 
Bridal Veil Falls is a waterfall near Raglan worth seeing, it's an impressive 55m (180ft) high. The walk only takes 10 minutes but you do have to walk access it via 260 steps.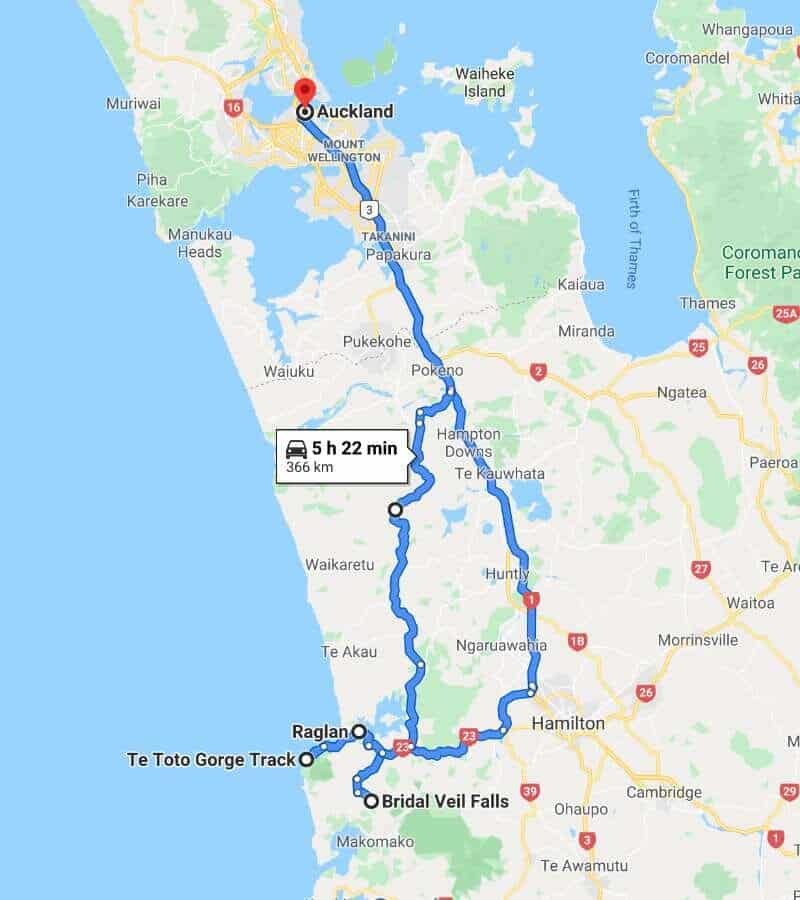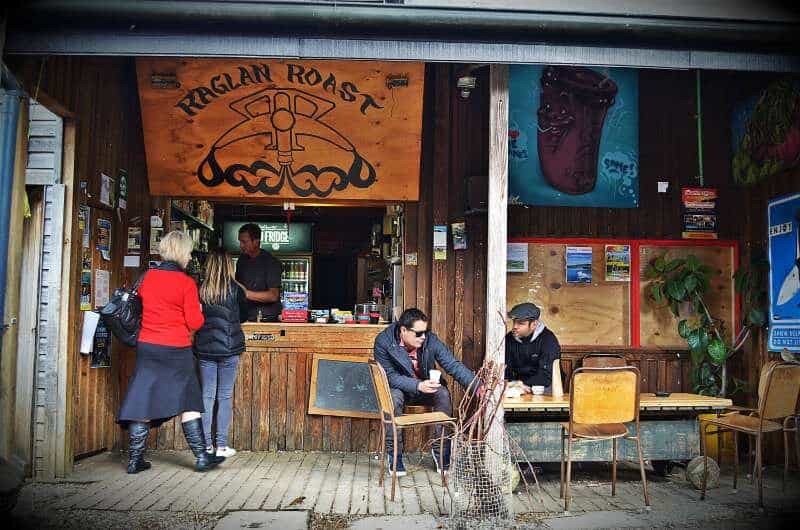 New Zealand's most iconic biker-bar is the Puhoi Pub, and it's just 35 minutes from Auckland central. First built in 1879 by Bohemian drifters, this place has an old-world charm and it's a great place to meet fellow riders and travellers. 
We recommend going through Orewa rather than the tunnel as it's a more scenic route and there's usually a few hot rods hanging out by the beachfront. View our article about Puhoi Pub here.
Pro Tips: Bring a business card, overseas money, a marker, or any other souvenir to stick to on the walls at the Puhoi Pub: it's a longstanding tradition. Go to the Dairy Flat Bakery for amazing pies and the world's best cream donuts.
FYI: Bikes go through the toll road for free
Planet Chopper at Puhoi Pub
Probably one of the quickest ways to get out of the city and into a nice calm area. The Riverhead Tavern is one of New Zealand's oldest riverside pubs, constructed over 150 years ago.
You have two options on the premises when you get there: The Landing, a nice fancy restaurant that overlooks the river or the Portage bar, an easy-going pub with a pool and outdoor area. This whole ride can be done in less than an hour outside of rush hour.
Pro Tips: You can tie in The Albany pub to this run, drop by there on a Thursday night if possible. The river looks better at high tide. You can be there within 30 minutes if you take the state highway outside of rush hour.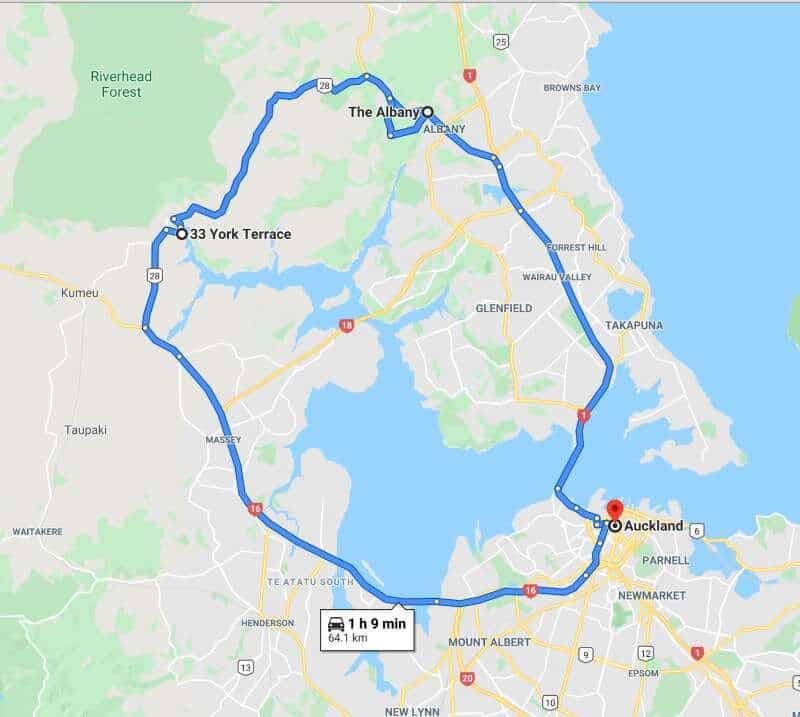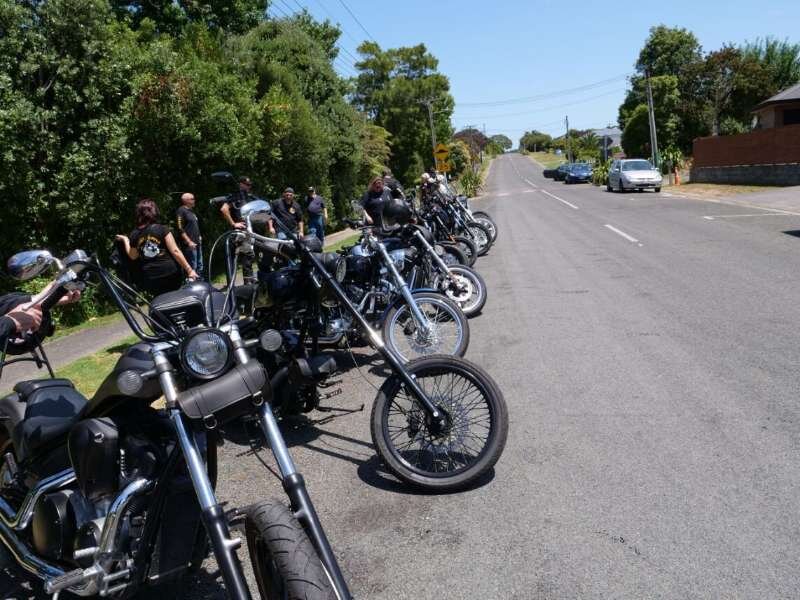 How could this list not include Piha? Piha Beach does get quite busy, but it's still big enough to find a sweet spot and enjoy the black sand beach with the famous Lion Rock at its centre. 
The last 2km of the ride is also one of the most awe-inspiring sights to see as you spiral into the beach from a high vantage point. Take Scenic Drive to dash through tight corners and hairpin turns of the Waitakere Ranges.

Pro Tips: The Mercer Bay Loop Walk is unbelievably beautiful and there are various options to make this walk between 40m or 4 hrs. Head to Kitekite Falls, which drops over 40m into an idyllic swimming hole.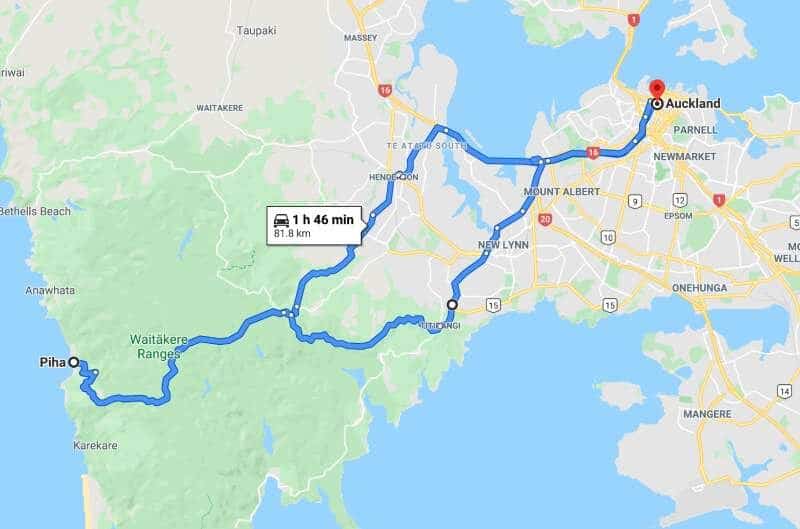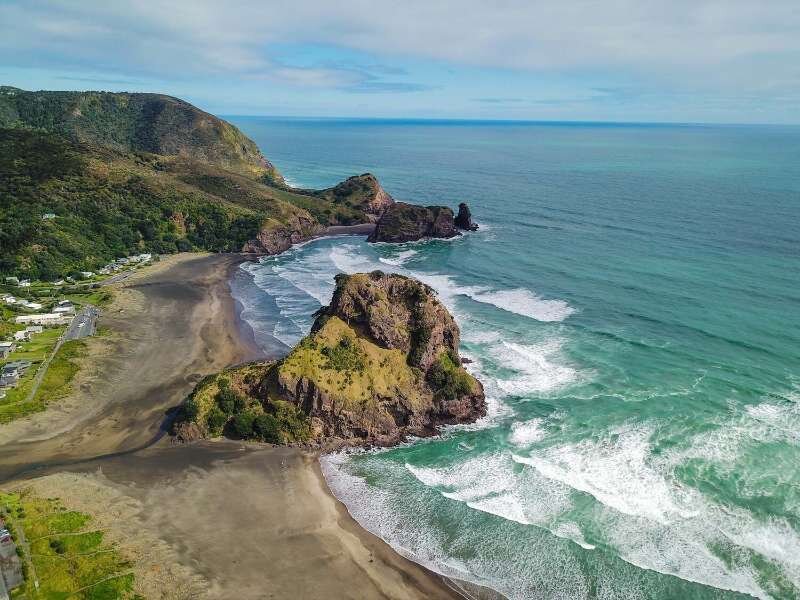 8) HOBBITON AND WAITOMO CAVES DAY TRIP
Can you do Hobbiton and Waitomo Caves from Auckland in one day? The answer is yes, but you will need to leave early in the morning. Waitomo Caves and the Hobbiton movie set are 98km (60 miles) apart, so it will take roughly 1 h 15 mins to get between the two places.
A return trip takes about 6 hours outside of rush hour traffic and will clock up about 455 km (282 mi). 
Pro Tips: We recommend leaving at around 7am. Try to get to Hobbiton early if you decide to go there first, the gift shop and cafe are a great place to relax before your tour.

We recommend going to Hobbiton first as it's usually less busy in the morning.
There's so much on offer in and around Auckland. Just make sure to focus while riding around the city; some drivers can be very unpredictable. 

If you want to rent a motorcycle from us, then head to our Auckland motorcycle rental page. If you are looking to do a tour with us, visit our guided tours page.