Finding the best motorcycle rides in New Zealand is actually quite simple thanks to our gorgeous mountains, luscious green spaces and endless coastline. Here are the greatest motorcycle roads for your next motorcycle adventure in New Zealand.
Distance: 291 km (180 mi).
Directions: SH 25 starting and finishing at Thames
Auckland motorcycle riders rejoice at this ride as it's one of the best motorcycles rides in NZ. This North Island ride offers challenging, winding roads that put your riding skills to the test with many one-lane sections right by the water's edge. It is divided into the Northern and Southern Loop.
Bonus Tip: Make sure to drop into Luke's Kitchen for a big feed along the way. This ride also features in our best motorcycle rides in Auckland blog post.
Pizza, mussels and crayfish make you ride a bit faster.
Distance: 291 km (180 mi).
Directions: Methven to Punakaiki: SH 77 to SH 73 (Arthur's Pass is on SH 73). Take SH 6 at Kumara Junction.
Carve your way through spectacular landscape and tight twists and turns. Either direction is stunning, but we prefer East to West as it allows you to climb uphill over the tightest sections. On this stunningly isolated ride you will climb over 900 meters (2952 ft) in the heart of the Southern Alps. Around every corner is something more beautiful as you zip over riverbeds and forested valleys in a backdrop of snow-capped peaks. On a good day (which is not so often) Arthur's Pass is arguably the greatest motorcycle ride in the world. Tip: we recommend visiting Devils Punchbowl Waterfall.
Does it get any better than that?
Distance: 300 km (186 mi).
Directions: Nelson to Hanmer Springs: SH 6 to Buller Gorge, Take SH 65, Take 7 at Springs Junction (Lewis Pass).
North of Christchurch, this road from Culverden to Springs Junction offers a ton of scenery, passing by many high country stations, herds of sheep and soaring views over the Canterbury region. With many sweeping corners, it is easy and meditative riding as you ascend into Victoria Forest Park, New Zealand's largest forest park. To make a day of it, we recommend riding from Nelson to Hanmer Springs or vice versa, this includes the hairpin turns of Buller Gorge (SH6).
Bonus Tip: Hanmer Springs hot water pools are a great place to debrief the days ride.
One of many river crossings.
7) THE FORGOTTEN WORLD HIGHWAY
Distance: 149 km (92 mi).
Directions: Stratford, New Zealand to Taumarunui, New Zealand (SH 43).
Also called State Highway 43, this stretch of road on the North Island offers a memorable journey. Many places ooze with Maori and Folk Folk history, the hub for these legends is Whangamomona. An eccentric 'republic' where you can get a stamp in passport and learn about 'The Bridge to Nowhere'. Try not to get a flat though, this region is surprisingly isolated and has little reception. Depending on which direction you are riding you will be able to see Mt Taranaki and Mt Ruapehu in the distance. A few sections of the road are still being worked on so be cautious.
Bonus Tip: Cop yourself a Whangamomona Hotel t-shirt to boost your kiwi rider status.
Hand-dug tunnels are dotted throughout the route.
Distance: 142 km (88 mi).
Directions: Wanaka, New Zealand to Haast, New Zealand (SH 6).

This gorgeous ride encounters lush greenery hugging narrow roads winding through towering, forested mountains. It's a motorcyclists dream with the trickling streams and snowy peaks of the Southern Alps rising above the perfectly sealed road. You will also get to experience riding in between two alpine lakes, Lake Hawea and Lake Wanaka, the stretch of road they meet on is known as The Neck. Be sure to dress warm as this is one of the southernmost passes.
Bonus Tip: Stop at Lake Wanaka Lookout to take in the views. Fox Glacier should be added to the list now you're on the West Coast, you're in for a treat: this is one of the best motorcycle rides in NZ.
The Neck: Lake Hawea in the distance, Lake Wanaka in the foreground.
5) GERALDINE TO OMARAMA VIA LAKE PUKAKI & TEKAPO
Distance: 179 km (111 mi).
Directions: Geraldine to Omarama (SH 8). Take the 79 to Geraldine at Fairlie.
It's always a tough decision when riding in the South Island to decide if you should take the coast or State Highway 8. But SH 8 is unbelievable year-round. If you can ride it in the southern direction you get a vantage point over the three alpine lakes. It's worthwhile to stop and admire the man-made dam systems — hydropower accounts for 98% of the South Islands energy. Our favourite section is the ride into Lake Pukaki, where turquoise waters glisten in the sun. Stop off at the Church of The Good Shepard for pioneer history and a few cool shots.
Lake Pukaki with Mt Cook in the background
Distance: 89 km (55 mi). (double this if you're not staying in Milford Sound)
Directions: Te Anau Downs, New Zealand to Milford Sound, New Zealand (SH 94)
Who wouldn't want to ride in Jurassic Park? Towering cliff faces, native Beech Forests, waterfalls, Maori history and a tunnel made through a gigantic mountain – what's not to love for motorcycle riders. The ride from Te Anau to Milford Sound is also one of the best motorcycle trips on the planet, yes it rains a lot but there's always a window of blue if you time it right. The Fiordland National Park and Te Wahipounamu World Heritage area awaits on the other side.
Bonus Tip: We recommend Rosco's Milford Kayaks to explore the fiords, marine-life and waterfalls of Milford Sound. Milford Sound has limited accommodation options, so it's likely you will need to ride back unless you've got a booking. Beware, the weather can be WILD.
Just make sure Kea Birds (mischievous alpine birds) don't steal your stuff!
3) WANAKA TO KINGSTON VIA CARDRONA, THE DEVILS STAIRCASE & KAWARAU GORGE
Distance: 249 km (154 mi)
Directions: Wanaka to Queenstown (Crown Range Rd). Queenstown to Kingston (Kingston Road) and back again. Queenstown to Wanaka via Kawarau Gorge (Gibbston Hwy).
We reckon this could be the ultimate loop you could take in New Zealand. Head off from Wanaka, stop at the famous Cardrona Hotel. Continue on over the Crown Range Rd, New Zealand's highest motorable road at 1121 metres (3677 ft), be warned it can get cold up there, even in summer. Continue to Devil's Staircase on Kingston Road, which runs along the edge of Lake Wakatipu. It is an awe-inspiring ride. On a crystal-clear day the mountains are perfectly reflected on the waters surface. The "staircase" itself is a fairly tricky road, narrow and winding, with sharp drop-offs and hairpin turn in some places. Head back along the Staircase but take Gibbston Hwy which runs through the incredible Kawarau Gorge.
Bonus Tip: In the summertime you can ride up to the Remarkable Ski Field to see soaring views over the entire Queenstown region.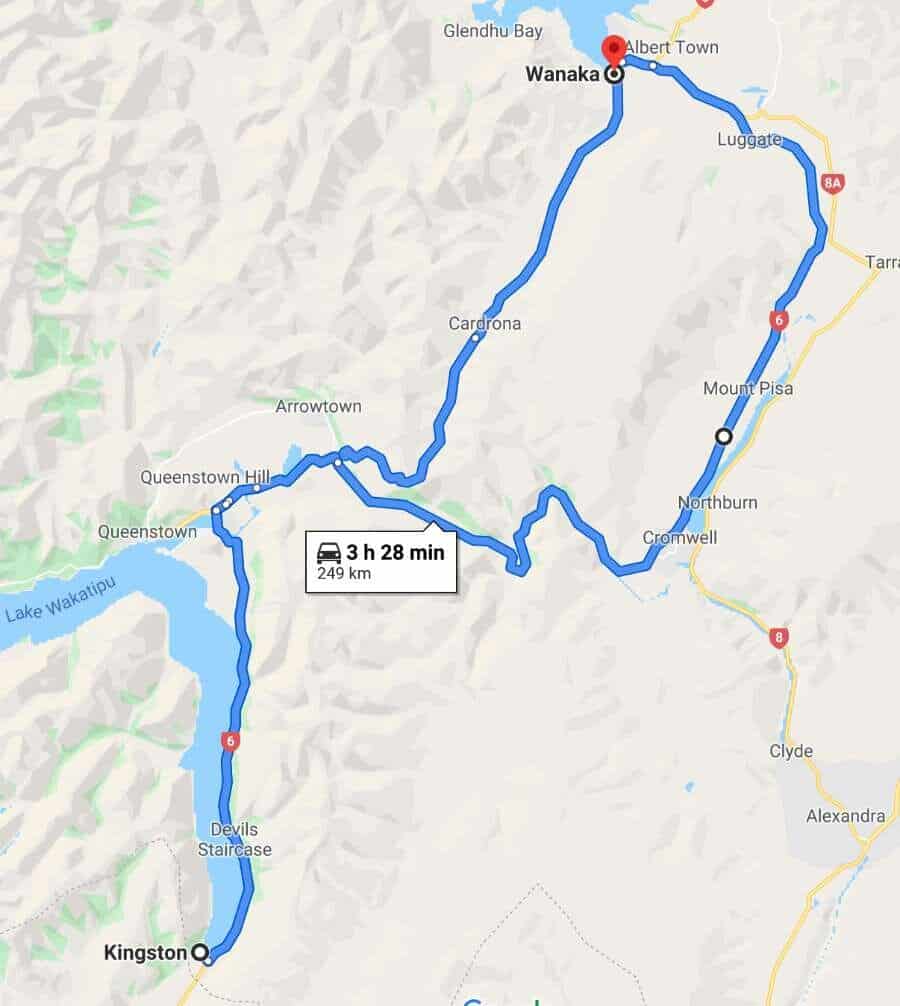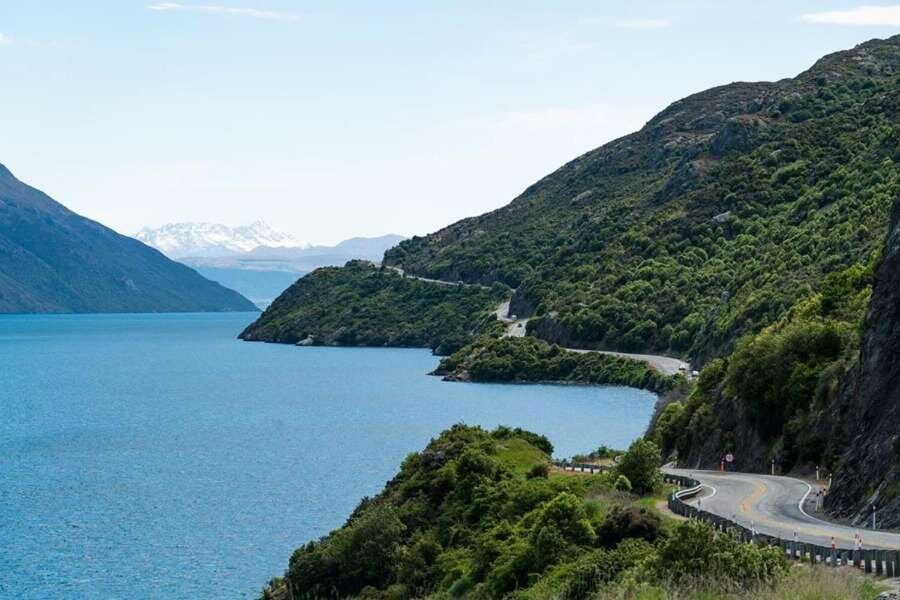 Distance: 79 km (49 mi)
Directions: Tarras, New Zealand to Omarama, New Zealand (SH 8)
When you ride Lindis Pass it feels as though you are travelling through a painting of idyllic tussock hills. The road passes fierce-looking mountains and over rolling plateaus, crests and grassland. It is located between Wanaka and Omarama on Highway 8, with just enough winding roads to keep you on your toes. This is a personal favourite of ours and often compared to the Scottish Highlands.
Distance: 50km (31 mi)
Directions: Riwaka, New Zealand to Takaka, New Zealand (SH 60)
What would a race track look like if it was planted on a hill that climbs over 900 metres (2950 ft)? Probably a lot like Takaka Hill. This 50km (31 miles) stretch from Riwaka to Takaka sits between Abel Tasman National Park and Kahurangi National park. It's unreal. Sometimes there are logging trucks on this route so be cautious. Summer months are busy but with clear views you can see for miles over the national parks.
The truth is, almost every road in New Zealand is a treat to ride. Picking your favourite road comes down to preference. We're blessed to have almost every terrain and scenery on the menu, time to twist the throttle and go!